We help others in ways that best fits with our mission as a company.
As a maker of effective oral care products, donating oral
care necessities is aligned with our mission of helping everyone have a better smile. You can smile a bit more knowing that your Ollie purchase helps others.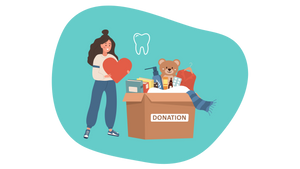 Ollie donates 10% of profits to make oral care kits for those in need.
Ollie's donation kits include Toothbrushes, Toothpaste and
floss to distribute to those in need.

Toothbrushes and toothpaste are some of the most requested
items for people who have been displaced from their homes. Oral problems can develop in just a few days without brushing. We rely on organizations helping those in need to help distribute the oral care kits.
You can donate kits, too!
Select how many kits you'd like to donate and we'll add them in to our next delivery to the Foster Closet or Red Cross.

Foster Closet of Oakland County
Red Cross
Please use the form below to submit an organization that you
think would benefit from our oral care kits.